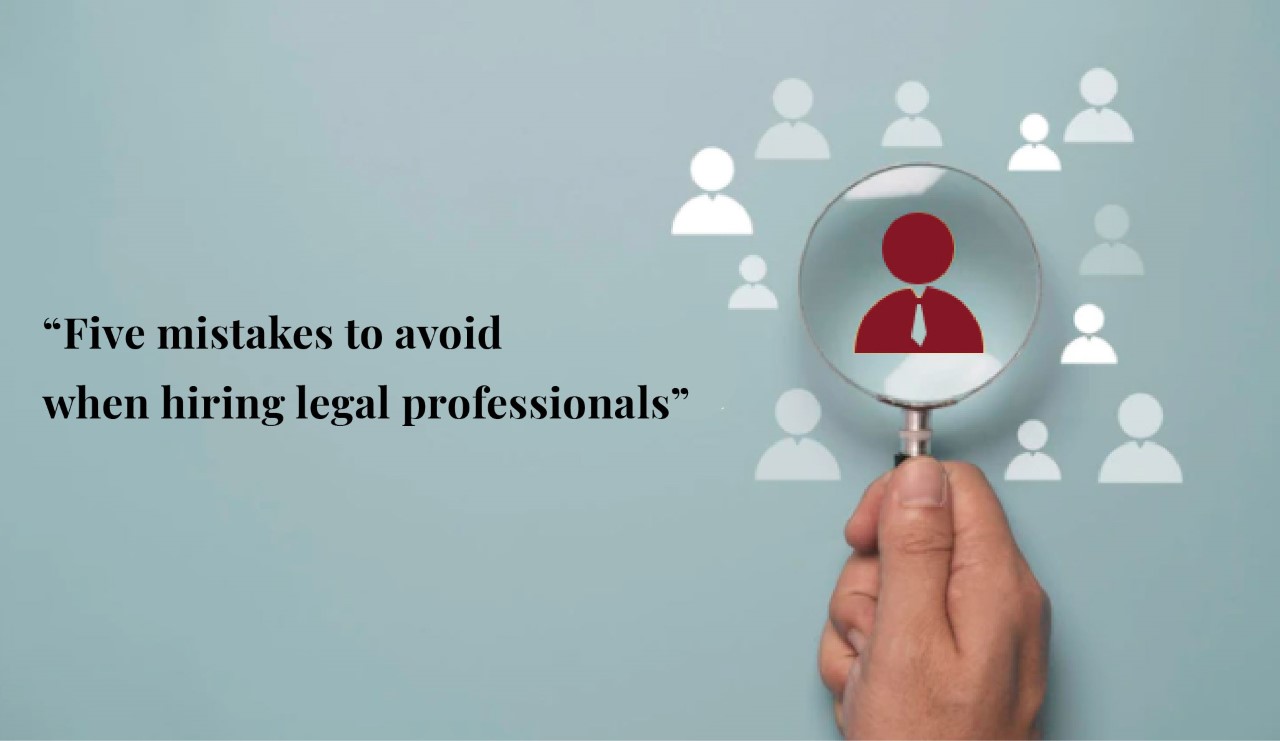 It's important to employ a thoughtful hiring process to attract and retain the best qualified legal talent. This can be a challenge and employers should be aware of several pitfalls when hiring. If you are actively replacing someone who has left, or are growing a team, try to avoid the following five hiring mistakes.
1. Experience should not be the sole criterion: Many candidates who are light on experience have significant potential and can easily be trained up. You're also giving candidates an opportunity to exhibit their capabilities and grow, hence creating a great working relationship from the start. Other factors to keep in mind when determining if candidates with lighter experience are an option include:
Have they published research papers or internships? This shows motivation.

Have they demonstrated creative problem-solving in a stressful environment?

Evaluate candidates' credentials, work history, etc. to determine the possible rigor and challenges they've encountered.

Ask for a writing sample. Successful candidates have excellent written and verbal communication skills.

Consider culture fit. Will this person work well in your environment?
Lastly, keep in mind that finding someone to train up can actually save time. Often, seasoned professionals have learned bad habits and retraining becomes necessary.
2. Have a well-defined job description that includes the must-haves: Unfortunately, some employers have only very brief job descriptions. These limited descriptions do not outline all of the potential responsibilities, which can lead to a rough interview and perhaps a poorly qualified hire. All positions should have a well-developed job description so that everyone in the organization knows what the new hire will be doing and how they fit into the organization. The interviewers will also be much better prepared to ask more relevant questions to help qualify during the interview.
3. Never have a lengthy hiring process when you identify the right candidate: Finding the right candidate can be a lengthy process; however, when you do find the right candidate, it's time to move quickly and efficiently. Yes, it's critical to have the right interview team in place and the right set of questions to vet the candidate, but this process should not be a lengthy ordeal. An efficient interview process will give you a competitive advantage. If a top candidate is actively looking, chances are they will not be available for very long. If you're interested, other employers probably are too, so move quickly.
4. Have a diverse interview team: The diversity of this group matters. The interview team should comprise of interviewers who can speak knowledgeably about the firm or company and ask insightful questions. It's also just as important to include support staff and other members of the team during interviews in order to see how the candidate communicates and interacts with all levels of the organization. Hiring mistakes can be made when a limited subset of the full team interviews and provides buy-in. As a result, onboarding can also be more difficult for everyone without that first introduction during the initial interview.
5. Qualify the culture fit and what's in the move for the candidate: Culture fit and providing a solid career growth path should be on any employer's or candidate's radar screen. Try to elicit from the candidate what type of culture and career growth path they are seeking. This due diligence is more likely to lead to an excellent long-term hire. Every candidate seeks a healthy culture with solid principles and values. Most candidates also seek solid career growth. If the culture fit and career growth opportunities are not there, then it's time to pass on this candidate and move forward with a candidate who aligns with both visions.
Legal professionals are bestowed with great authority, which helps bring equity, integrity, and justice to the legal system. With great power, though, comes great responsibility. It's essential to have the right interviewers and practices in place when maintaining or growing a successful legal team. Premier Legal Staffing's recruiters are experts at navigating through the many hiring obstacles. For more information, please contact us directly at 800-985-8816.