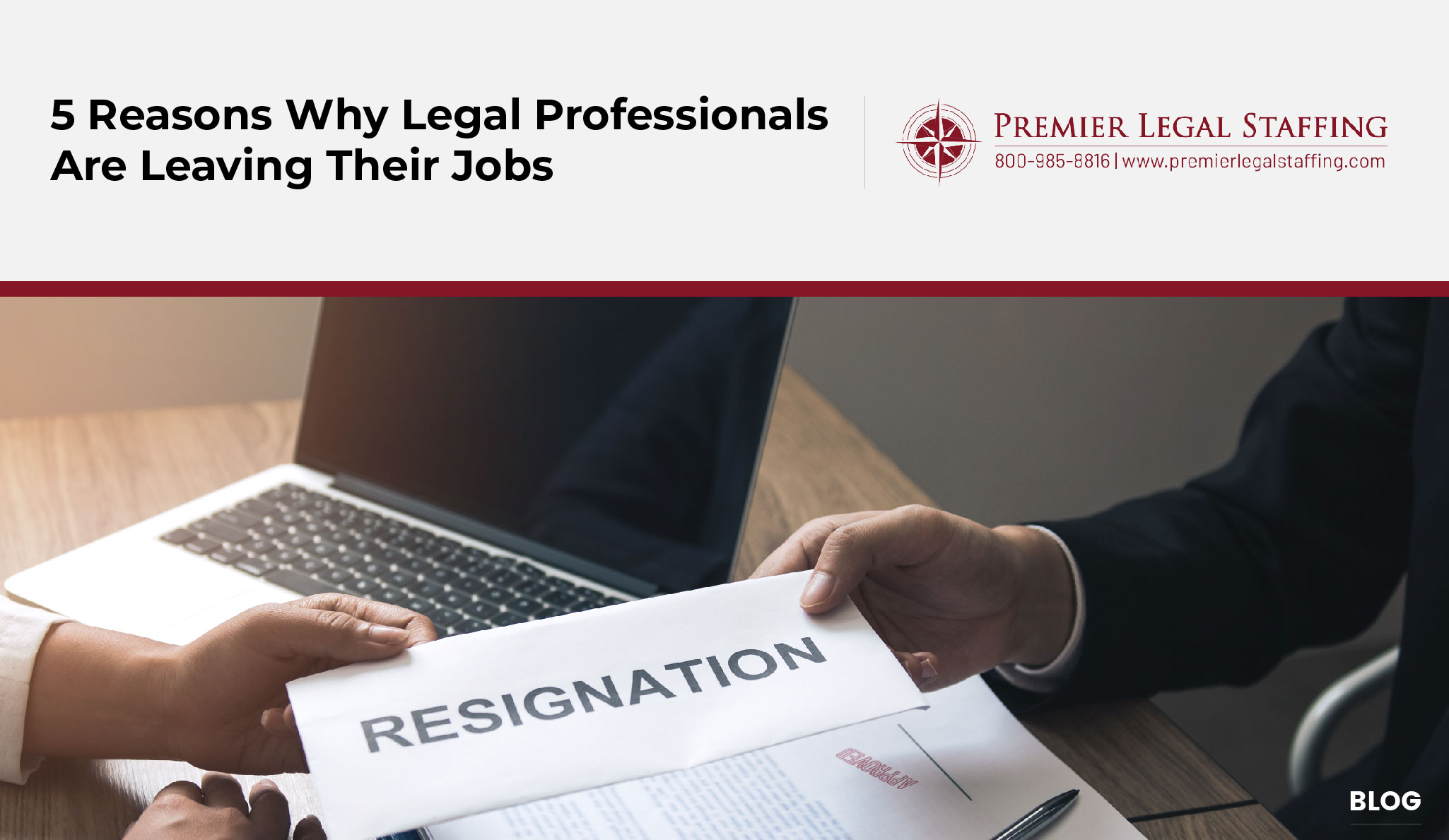 According to the U.S. Bureau of Labor Statistics, 4.5 million professionals quit their jobs in November 2021. Also in 2021, job openings reached an all-time high of 11 million. The legal profession is feeling the effects of all that churn, with even the best law firms saying they have seen an increase in turnover over the past year.
With the attrition rate at such a high level, losing top legal professionals is upsetting. If you are one of these organizations, it's best to know the reasons your employees are looking elsewhere. Here are the five main reasons, other than compensation, why legal professionals are leaving their jobs.
1. Legal professionals are not engaged
Employees who feel engaged at their workplace tend to stay in their jobs. The reverse is also true, as employees who feel disconnected from management, development opportunities, or the organization's vision are more likely to quit.
Disengaged workers are a noticeable proportion of the workforce. According to a 2021 Gallup survey, 15% of U.S. employees feel "actively disengaged." They might generally be satisfied but are not cognitively and emotionally connected to their position and workplace. In other words, they will usually show up and do the minimum but leave their organization for a slightly better offer.
Knowing if an employee is disengaged requires attention to subtle changes. Many experts advise managers to study their staff and ask themselves:
Is this employee withdrawing from social activities?
Calling in sick more than usual?
Performing the bare minimum to get by?
The question is, what can an employer do to help prevent an employee from becoming disengaged? For starters, you can provide monthly or quarterly reviews to train, assess changes in performance, and offer an opportunity for the employee to discuss their current challenges or where they may need help. Also, it is essential to assess your employees as individuals rather than compare them with their peers in terms of productivity or quality. For example, if a professional has always been outgoing but suddenly seems reserved, you may be able to catch those changes in a regular assessment. However, if the employee is an introvert, it can be more challenging to discover unless you have established a solid working relationship. Regular meetings and reviews are very helpful in identifying changes and developing positive and productive working relationships.
2. Your employees are not feeling heard
It's a common adage: "Employees don't quit jobs. They quit managers."
This is true even for jobs in law firms and in-house legal departments. When an organization loses top legal talent, the first place to look is at management. Managing teams is challenging. You have to handle each individual and invest time to discover what all team members need in order to perform to the best of their ability.
Does the employee think that you are in this relationship together or that they are connected to a team effort?
Do they believe their suggestions, concerns, and challenges are acknowledged and acted on when possible?
Do they feel valued?
Is there a healthy culture?
Legal talent demands transparent and accountable management. The best legal professionals require work that makes them feel they have a real impact. In addition, if the employee believes leadership is not producing results, they are more likely to lose interest and change employers.
3. Legal managers are unprepared
It is not unusual for a manager to be highly talented but still be ill-equipped to deal with the requirements and nuances of management. Abilities that make an employee a great lawyer are different from those needed for management. For successful law firm recruitment and retention, legal employers should consider offering regular training and guidance to help the managers lead and handle their teams. This is a chronic concern where professionals are promoted into people management roles but have insufficient training to play the part well. The employees under these ill-prepared supervisors who lack people management skills will seek alternative paths with better career growth.
4. The legal employer is not providing growth opportunities
One of the principal reasons top legal professionals quit is that they think their career advancement is not progressing as planned. Indeed, some top individual contributors aren't always well-prepared people managers; therefore, it helps to have an alternative career growth path within your organization. Legal employers should consider a built-in non-managerial career path too, or your employees may find another organization that offers better growth potential. Making educational and career progression opportunities available, even if legal professionals leave your organization, is a necessity because an employee could return to the organization or make a significant referral to your law firm or in-house legal department in the future.
5. Legal professionals are experiencing burnout
Another factor driving the "Great Resignation" with legal employers is extensive burnout. To retain top talent, it is essential to be aware of and accommodating to legal professionals and their struggles to manage work and home life. Little things that highlight the significance of the work-life balance go a long way toward making professionals feel valued. Perhaps this means your law firm or legal department needs to hire contract legal talent during peak work times in order to maintain a healthy work balance and culture. These efforts will demonstrate your sensitivity to the work-life balance while helping to manage the inevitable ebbs and flows of legal work. In addition, offering reduced hours and adjusted compensation arrangements may give your employees a way to keep contributing while juggling personal challenges outside of work.
Why is Your legal talent leaving?
Replacing an employee costs an estimated 75% to 200% of their annual compensation. This is a high price to pay for not grasping the demands of your staff. Knowing more about why individuals want to leave gives legal employers a chance to put into place better and more specific training and retention strategies. Exit interviews can help you avoid making the same mistake twice if you know why people are leaving your organization. However, despite your best efforts, sometimes losing top legal talent and replacing an employee is unavoidable.
There are several ways to replace and add legal talent, including utilizing specialized legal staffing agencies that can quickly deliver the most qualified talent and reduce the time you have to spend sifting through unqualified resumes. Contact Premier Legal Staffing so we can best assist you with your perm and contract legal staffing solutions. Your hiring strategy is important to us, and we aim to quickly provide the very best legal talent and customer service to fill your positions quickly.