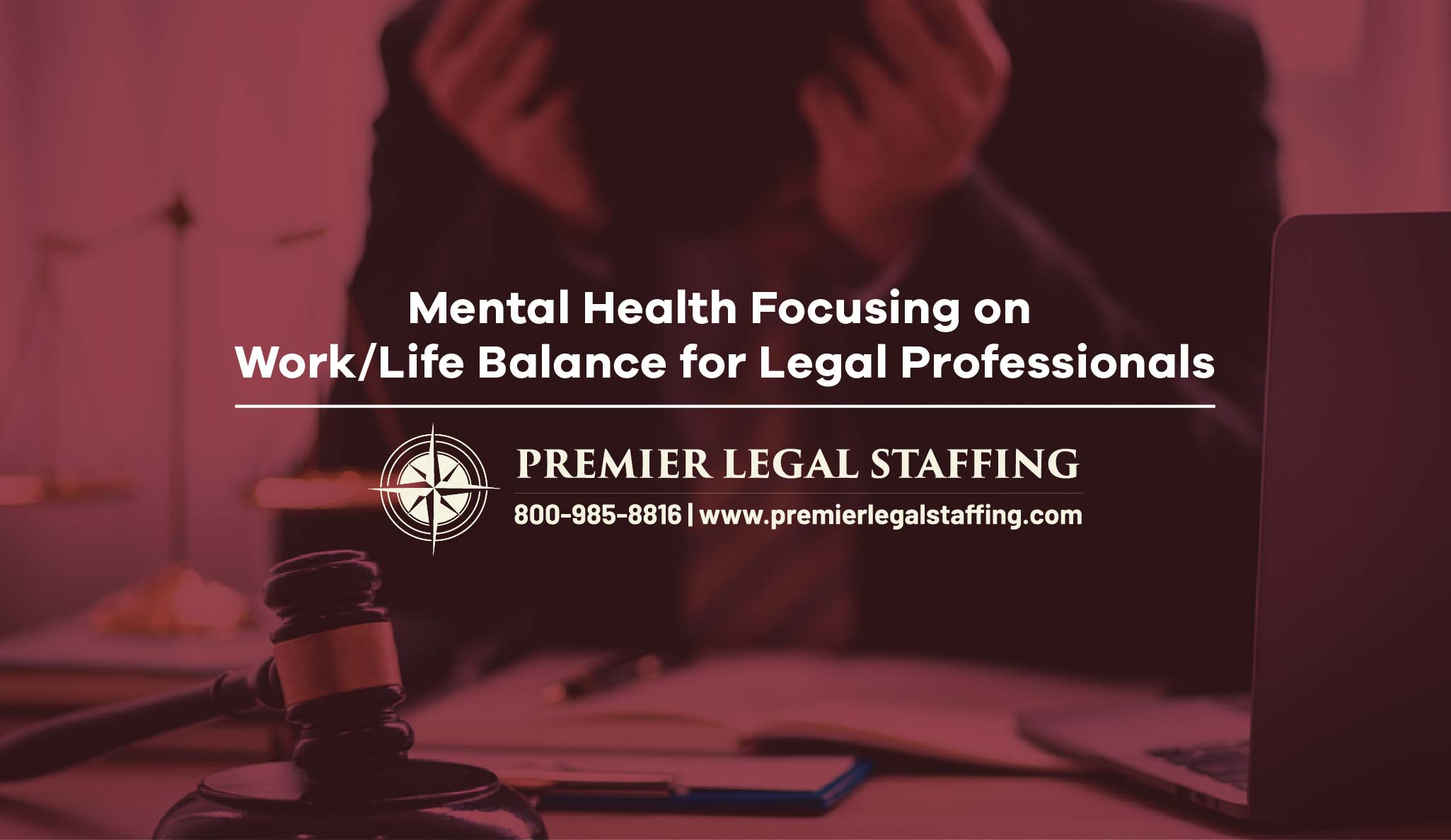 With so many powerful benefits, challenging yourself to be mentally healthy is 100% worth the effort. Like so many others, legal professionals require mental breaks. This downtime helps us relieve stress, create more focus, contribute to a better work/life balance, build interpersonal relationships, and improve decision-making. It's valuable to discover how you can achieve better mental health, which can result in an improved daily work/life balance.
Why consider a break? Because legal professionals deal with all sorts of high-level, unique, and sensitive matters, they can be put in challenging situations that can place them in a vulnerable position as they're consistently exposed to intense issues that require reasoning and sound judgment. Mental health is critical because it affects everything, including your ability to cope, adapt, and solve these problems. It's necessary to learn and identify the need for mental health breaks and how to seek solutions to successfully handle any challenge or obstacle life throws your way.
Identify when it's time to recharge. Taking time for yourself can improve mood, energy, motivation, and focus. Knowing when it's time to recharge requires being familiar with the following, which can rob you of realizing the advantages of being on top of your game.
A lack of sleep can cause fatigue and exhaustion, hindering your mental powers.
Emotional stress can lead to reduced well-being and anxiety and/or depression. Know your triggers and coping skills. Some time off may be helpful.
Your mood is important, and if you find yourself more irritable and easily triggered, your life may be out of balance. Being easily agitated could mean it's time to unwind.
A lack of motivation is not uncommon and could be because you're overwhelmed, experiencing burnout, depression, or not engaging in a lot of other activities that interest you. A consistent break routine may significantly improve your motivation.
Isolating — perhaps you are working too much? There is a reason for the term "workaholic," and just like overindulging in anything, it can lead to loneliness, burnout, fatigue, anxiety, or depression. Consider these as huge disadvantages that can creep into your overall mental health and productivity.
Substance abuse — when productive behavior becomes destructive, it's time to take a mental break, recalibrate, and seek help. Substance abuse can contribute to a host of negative impacts on your personal, professional, and family life.
Mental health also affects our ability to be happy, productive, and well-adjusted. This is why it's essential to know how and when to recalibrate. Here are some good ways to recharge if you're feeling a need for a mental break:
Schedule breaks during the day — taking some "me time," such as a trip to the gym, a walk, or a short nap, could make an impact.
Keep strict working hours — separate work and play. Pursue passions and hobbies.
Learn to say "no" to extra work or personal commitments when you need that break.
Book vacations.
Prioritize important things such as family, mental health, and personal interests.
Seek professional help, such as a therapist or personal trainer, if you're not achieving your mental health goals or breaks.
Take advantage of flexible work arrangements, such as working from home. Set up a home office that keeps you feeling productive and positive.
Overall, be mindful and remember that creating that work/life balance involves many things. Be aware of what makes you thrive and be productive versus what could be contributing to an imbalance. The impact of poor mental health can result in lower productivity/motivation, anxiety, appetite changes, substance abuse, sleepless nights, as well as many other significant symptoms. Check in with yourself and make changes in your daily habits or work environment when necessary and appropriate. Also, know that the best employers will always create the kind of environment that works in favor of their employees' mental well-being.
If your work environment is not ideal, seek a change that can provide a positive culture, career growth, and support. It's important to create an optimum work environment that can also contribute to mental well-being. Premier Legal Staffing is here to help if you're seeking a change!